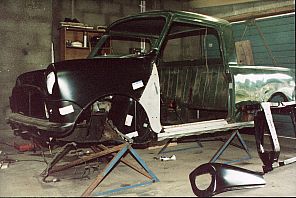 New panels being fitted to the pick-up.
Both inner wings, both outer wings, front panel, hinge panels, A-panels, sills, full floors, toe board, rear subframe cross-members and mounting panel, rear wheel boxes, both pick-up side panels, door skins & door bottoms.
The pick-up bed was patched and the bottom 3" of the tailgate skin was replaced,
In other words, I still have the original roof!!!!