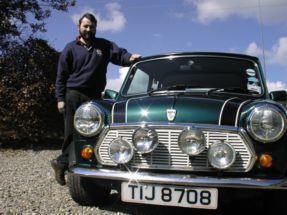 Doug with his 'Italian Job' Mini.
This Mini was produced as a limited edition in 1992, available in Red, White or Blue, as per the 1969 film 'The Italian Job' starring Michael Caine.
The car was also produced in, this rather fetching, shade of 'British Racing Green' metallic paint - to represent the green in the Italian national flag?
Douglas Anderson & Angus Buchan took part in the Italian Job 2004 (Charity Touring Event) (Team Number 48).
The 2004 Italian Job was the 15th running of the Italian Job Charity Touring Event.
This was the 6th time we have taken part in the event. We have raised over £12,000 for Children's Charities in the process.
Our first 'Job' was in 1993 when we took my 'Italian Job' Mini (see picture above).
We took the same car on the 1994 event and in 1996 we took both of our 'Italian Job' Minis.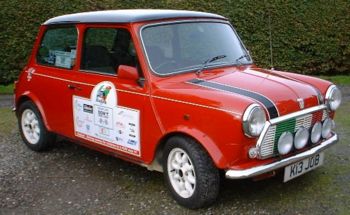 Angus's Italian Job with 2002 decals
In 1997 & 2002 we only took Angus's red 'Italian Job' Mini.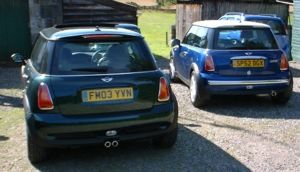 For 2004 we used Angus's new MINI Cooper 'S'.
About 'The Italian Job' - Touring Event
This event is a tour of Europe for Minis, Mini based cars and classic cars featured in the 1969 "Italian Job" film.
The event officially starts in Italy and finishes in the UK - All in aid of fundraising for children's charities.
2004 saw the 15th running of the event and the "Jobbers" are now well on their way to raising 2 Million Pounds (Sterling) for charity.
The event organisers can be contacted via their site
http://www.italianjob.com/
Check out the artwork from the Italian Job official programmes -
click here
The Tour
In 2004, the event returned to its original Italian venue - Trento, in the Italian Dolomites, before going on to Imola and then on to Turin.
The return from Italy was via Switzerland then involved a stop over at Colmar followed by a night in central Paris before crossing back
over the Channel for the finish at the Grand Hotel in Brighton on the 6th November 2004.
Some previous 'Italian Jobs' returned via Germany with stops at such places as Munich and the famous NurburgRing race circuit.
The Charities
The 'Italian Job' raises money for the NCH (UK Charity Reg. No. 215301) and U.N.I.T.A.L.S.I. (one of Italy's leading Children's charities).
Each team has been set a charity fundraising target of a minimum of £1500 but obviously everybody want to raise as much as possible.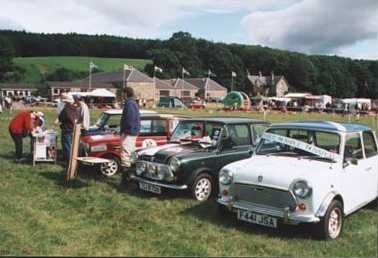 The picture above shows fundraising at the Scottish Mini Weekend 1998 at Doune
(Angus has his hands in his pockets again).
To visit the 'Italian Job' supported Children's Charities - Click on the logos below: