Stimson Gallery
Mini Bug/Scorcher/Safari 6/Trek
May 2005 - Barry Stimson has now created a new 'Bug'.
This time based on a Ford Fiesta.
"You simply buy the five door Ford Fiesta you like, 1997 to 2002 and then drive or trailer that vehicle down to Design Developments factory in Portsmouth. Transformation work from stage one to stage three to is then carried out for you.
At the completion of a stage three conversion the vehicle can be collected and driven away." Visit Design Developments web site for pictures of this great looking buggy.

Stimson Mini Bug Mk2
(MOC)


Simon Jones
Stimson Mini Bug Mk2


Stimson Mini Bug Mk2


Modified Mini Bug!
(The CS 2) (MOC)


Stimson Safari Six (MMOC)


Stimson Safari Six (MMOC)


Click Image for info



Stimson Scorcher (MMOC)


Link to Ryan Andrews site
Stimson Mini Bug Mk2


Stimson Mini Bug Mk2


Stimson Mini Bug Mk2


Mini Bug Mk1 chassis


Fil Baker's
Stimson Mini Bug Mk2


Stimson Mini Bug Mk2

Fil Baker would like to be reunited with his Stimson Mini Bug Mk2 - If anyone knows the whereabouts of it's current owner, Fil can be contacted at Fil@FilBaker.com

Fil Baker's web site is also worth a visit to see his Mini Bug and his other interesting cars, past & present.


Stimson Mini Bug
(Modified)


Stimson Mini Bug
(Modified)

Stuart Williams modified Stimson Mini Bug


Stimson Mini Bug Mk2


Stimson Mini Bug Mk2


Stimson Mini Bug Mk2

Simon's Mk2 Mini Bug
Found abandoned a few years ago.

Dino has now acquired this bug
(October 2002)

(Pictures by Fil Baker July 2002)

Matty's MK2


Matty's Mk2

Matty has taken on quite a challenge with this Mk2 Mini Bug! (May 2005)

Bob Coster would like to trace his old Mini Bug>>>>>>>

Bob writes:
"I built the Mini Bug KBD 491 L while living in Northampton area, I lost track of it when I sold, though I later saw it in Banbury are.
I would very much like to know if it still exists, if anyone has any information it would be gratefully received. Please email me on sb-coster@supanet.com or call me on 01833 660033
Much appreciated, R C Coster"


Stimson Trek


Stimson Trek

Stimson Trek
Click Here
Barry Stimson has created some wonderfully weird, Mini based, kit cars over the years.
He now runs Stimson Designs in Portsmouth, England.
I am informed that he is working on a new design (October 2002), I look forward with anticipation
Barry's new car has now been unleashed on the world (See article by Giles Chapman in the Motoring Telegraph
"Type my name in, you'll find nutters" Filed 01/03/2003 ) - Surely he can't mean me!
Anyway his new vehicle is the Stimson Sting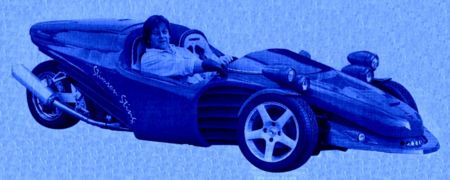 The Sting is a 3-wheeler using a Suzuki 1200 Bandit powertrain
He has also designed the Storm using the Bandit forks and single wheel at the front
New for 2005 - The new Stimson Buggy
---
Back to the Bugs.......
I owned a Stimson Mini Bug Mk1 during the 70's.
The Mk1 Bug did not have the lower body mouldings, screen surround moulding or the roll over bar moulding, which can be seen in the pictures of the Mk2s shown above.

The Mini Bug used a Mini engine/gearbox and subframe at the front and had Mini trailing arms with coil-over-shocks at the rear. There was a square section, spaceframe chassis under the glassfibre mouldings.

Latterly the Mini Bug was marketed as the CS 2.

The Stimson Safari Six was a spaceframe and glassfibre, open topped, Mini Clubman fronted, 6 wheeled pick-up.

The Stimson Scorcher was a three wheeled, Mini engined car which you 'rode' astride the central tunnel.

The Stimson Trek, this was a small front engined, Mini based, off-road style, four wheeler.
I now have pictures of a complete Trek and a part assembled Trek thanks to Dino - Click here for details & photos

If anyone has any interesting photos of Stimson cars - please forward them to me so that I can add them to this gallery.
Credits:
Many thanks to Simon Jones, Ryan Andrews, Stuart Williams ,Fil Baker and Matty for the pictures of their Mk2 Mini Bugs.

Thanks to Richard Porter of the Mini Marcos Owners Club for the pictures of the Mk2, the CS2, Safari Six and Scorcher
- these and many other Mini based cars can be found on the Mini Marcos Owners Club web site at http://www.minimarcos.org.uk.

Return to Doug's Mini Pages
Douglas Anderson: mini_sport@yahoo.co.uk
Date Last Modified: 05/12/2007