03/07/06 10:34
Yesterday was the Monklands Sporting Car Club's Forrestburn Hillclimb.
The sun was shining brightly as we arrived, unloaded the cars and walked the track.
Whilst walking the track, I was speaking to one of the visiting drivers who was competing in the Northern Speed Championship.
He mentioned that they had had excellent weather at most of the events this year and that it looked like it would be another such day....
I forewarned him that Forrestburn acts as a weather magnet and looks could be deceptive.
Right enough - as the first cars prepared to practice the rain appeared from nowhere, soon the track was very wet.
The rain eased as the single seaters went out but it was pretty damp.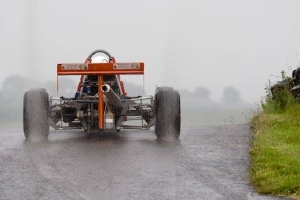 Photo:
http://myles.fotopic.net/
For the second practice some of the single seater drivers switched to wet tyres as it was a bit wetter.
I stuck with the slicks as they appeared to have a reasonable amount of grip on the first run.
I improved my time by 3 seconds and did not appear to be at a disadvantage to the drivers who had switched to 'wets'.
Lunch was called and the rain duly stopped. On walking the track after lunch, the track was virtually dry.
The first timed runs got underway and it was clear that the track was fully dry as the times started to tumble.
The road and modified classes ran first and Gary Dickson put in a blistering time of 46.74 seconds, with his road-going Westfield, to better his existing record.
As the Sports Libre and single seater race cars lined up on the pit road, there were a few drops of rain, and by the time the cars came to the start line, it was raining heavily with thunder and lightning.
Needless to say, I drove up the hill very slowly as I could hardly see where I was going and the track was a lot wetter than before.
The rain never ceased after that so I called it a day and put the car back on the trailer.
Gary Dickson's first run gave him his first hillclimb FTD (Fastest Time of the Day)
Well done Gary!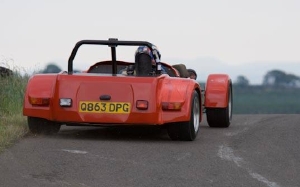 Gary Dickson on his way to FTD
Photo:
http://myles.fotopic.net/