Some of my previous Hillclimb Cars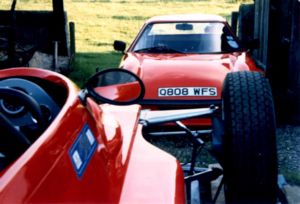 My 1984 GTM Coupe (Q808 WFS) parked behind my Hawke DL19B - FF1600.
Picture taken in 1987, the day I traded the Hawke for the GTM.
The GTM was used for a few Hillclimbs & Sprints in 1987 & 1988. It originally came with an 1100cc A-series engine but this suffered from bad oil pressure and was soon replaced with a 1300cc (Allegro!!) unit.
The GTM suffered from badly designed rear, reversed A-frame, lower wishbones with metalastic bushes. The frames twisted under acceleration and the bushes gave variable toe-in on corners - it all felt very peculiar.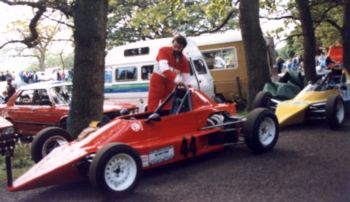 Hawke DL19B - FF1600 at Fintray Hillclimb (nr Aberdeen, Scotland) in 1987.
Pat Donnely's yellow Hawke DL19 can be seen behind my red Hawke.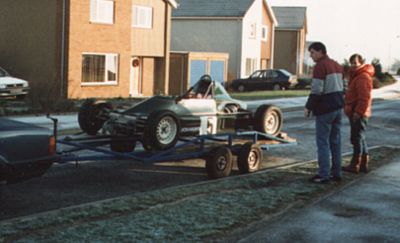 My Hawke DL19B, the day I bought it (1986).
The car was completely stipped down and rebuilt over the winter.
I had to have the Hewland gearbox rebuilt into a new case as the original casing was held together with various straps & bolts.
The Hewland adaptor plate had to be welded where it had worn away over the years (not much ground clearance!).
The (Minister) 1600cc Ford Crossflow engine was found to be in excellent condition and was left well alone.
The chassis was straightened and everything was repainted. Various rod end joints had to be replaced and the exhaust manifolds needed a bit of welding.
Next Page