The rebuilt rolling chassis (April 2002)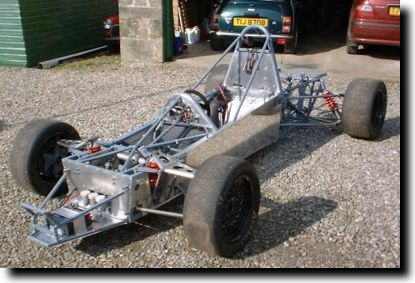 The Royale ready for its first event of the 2002 season. (19th April 2002).
The body has been stripped back to the white gel coat
(did not have time to respray in the planned Ford 'Radiant red'.
The new Superlite 'Ultralite' 3 piece rims and Hoosier tyres have been fitted.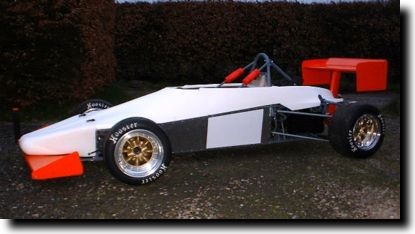 As you can see it was pretty late in the evening when the car was finished.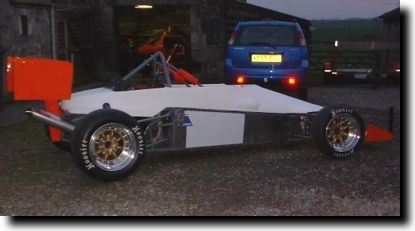 The next day it was the first Doune Hillclimb of the season (20th April 2002).
As expected - it rained!
As I had never driven the car more than 10 feet prior to the event, I took it very easy on the Saturday especially as I did not have a set of wet tyres mounted on suitable rims.
Anyway - I survived the runs on Saturdays event.
The second event was on Sunday 21st April, also at the Doune hillclimb.
It rained even more, but I managed to get a set of intermediate tyres assembled on the Saturday night.
I took it easy on the first practice run to see how much grip there was.
Unfortunately on the second practice run I found the limits of adhesion and did considerable damage to the car.
I was accellerating, in second gear, on the short finish straight when the engine came on full song at about 9000rpm.
At this point the rear wheels broke traction and the car started to 'fishtail' - eventually I had to lift off and at that point the tail came round and I crossed the finish line sideways.
The nosecone, wing & battery were deposited at the finish banner and the car left the track and collected a couple of 8 foot diameter beech trees.
This resulted in 3 corners being knocked off. There following damage resulted:-
(2) wheels destroyed (luckily not the brand new ones)
(1) disc brake broken (1) bent
(2) Lower front wishbones destroyed
LH Steering arm & track rod destroyed
(4) Mounts for Upper front wishbones bent
RH front chassis damage
LH chassis damage under drivers seat
Pedal pivot rod destroyed
Nose frame, battery and front aerofoil destroyed
Slight damage to fibreglass nose cone
Alloy floor and LH side panel mangled
LH rear upright - slight damage to lower lug (weldable)
LH rear lower wishbone bent
Various mounting bolts and rod end joints bent or broken
Rear anti-roll bar drop link broken
Steering wheel bent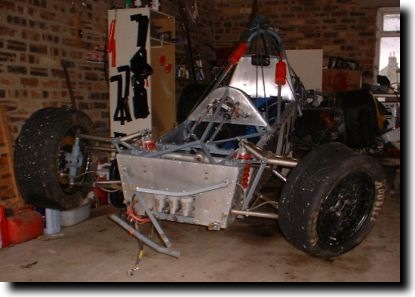 The remains hanging from the garage roof beam.
There are a few months worth of repairs required to get this car back on the track.
In the meantime, I am using the Hawke DL17.
I stuck a standard Allegro head on the Hawke's engine (after last years dropped valve incident).
The car seems just as quick (I even managed to improve my best time at the Kames sprint)
I am in the process of re-building a 1380cc A-Series engine to fit into the Hawke before the Golspie sprints on the 1st & 2nd June 2002.
Previous Page
:
Next Page