1976 Hawke DL17 Formula Ford
Conversion to Kawasaki ZX10 bike engine with chain drive differential
Having had a good look at the remains of the Royale, I came to the conclusion that my most economical route
would be to use the Kawasaki engine and drive train for my Hawke DL17, in place of its Mini parts.
So as of the middle of May 2003, I cut off the rear end of the Hawke and began the installation of the Kawasaki engine, the Royale uprights & drive train.
The picture below shows the new rear chassis being grafted onto the Hawke's front end.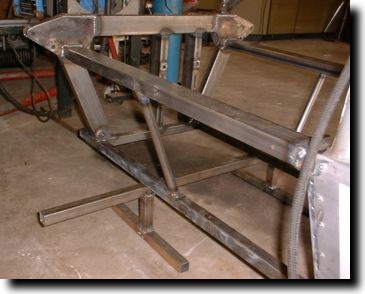 Below: The Hawke chassis with the Kawasaki ZX-10 engine and chain drive differential in place
All the chassis triangulation is now fitted as well as the two removable rear roll bar stays (These had to be removable to allow engine installation).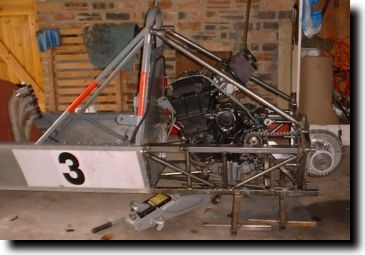 Previous Page : Next Page