The oldest Cox GTM Coupe?
The earliest known surviving example of the Cox GTM Coupe.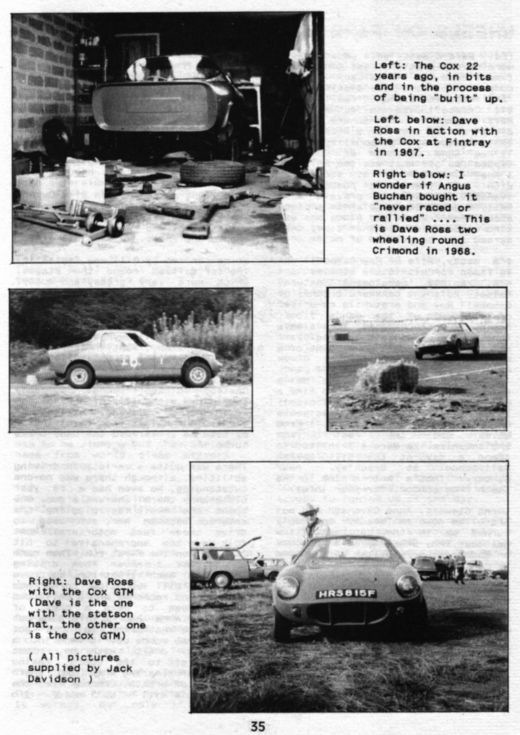 The above is an extract from the long defunct "Race & Rally Scotland" magazine. Issue No.8 - February 1989..... Can it Really be 17 years since I started the re-build!
Work done so far:-
Shotblasted & painted monocoque steel chassis (Including replacing tunnel floor which some previous owner had cut off!).
Re-furbished front & rear subframes, suspension & brakes.
Manufactured & fitted balance bar pedal box.
Fitted roll over bar, seat belt mounts and seat rails.
Manufactured new dashboard.
Manufactured new gear linkage.
Work still to do:-
Fit engine & gearbox (Has been temporarily fitted when making gear linkage).
Re-fit fibreglass body shell (Needs some minor crazing fixed and a lick of paint).
Rebuild drivers door completely (skin detached from frame).
Re-wire & fit plumbing (water, brakes, clutch, fuel).
Next Page
More GTM links:
Another 1967 Cox GTM
1970 Cox GTM
1984 Cox GTM
GTM Picture gallery
GTM History