It's finished! (at last)
It is now nearly 10 years since the Hawke front end was pulled out of a chicken coop in Thankerton (Scotland). (Advertised in Motoring News October 1991).
The only thing missing is the pair of new Revolution front wheels - on their way but yet again UPS have failed to live up to their 48 hour delivery (3rd time out of 3). I just hope it's going to be wet at Golspie as I can only run on the intermediates.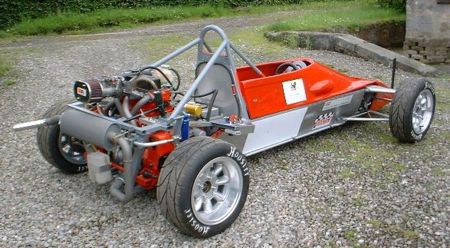 Well here is the Hawke at the Golspie Sprint on 14/15th July 2001, and yes it did rain!
The car was totally untested prior to the event so I was hoping that it would:-
a) Start b) Stop c) Go round corners.
So how did it go? - apart from a few teething problems, it went very well.
The engine seems very lively and free revving (which reminds me, I must install a rev limiter - the telltale twice showed 7900 RPM - as the engine has a pretty much standard bottom end, this is not a good idea).
The car was 'double entered' with my F1 test driver (Angus) - well he has driven a Larrouse and an Arrows F1. As a result of running back to back we experienced a few overheating problems, so I might have to fit a larger radiator and/or an electric fan.
The biggest problem was the gear shift between 2nd & 3rd (and 3rd & 2nd). When rushed it was all too easy to get the gear to baulk in the gate - mainly due to the very short gear stick. I have subsequently tried a longer stick and there seems to be a lot more 'feel' to the mechanism.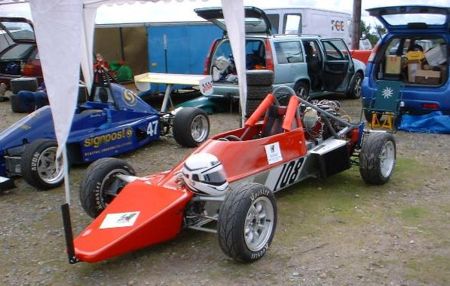 Handling & braking seemed reasonable both in the wet and in the dry. We did have a couple of spins in the wet but largely due to missing gears coming into corners.
I also had a spectacular spin in the dry (also due to missing 2nd gear).
My best time was 113 seconds (compared to 108 for the quickest FF1600) - there was a lot of room for improvement as I missed several gears and had a wheel off the track twice on that run.
Now that the first event is over, I have a list of improvements to make before the next sprint at Alford on 29th July.
The new 8x13 front Revolutions have arrived at last, so now I can run on the 9x20.0x13 R25 Hoosier rear slicks and the 7x20.0x13 R23 Hoosier front slicks.
These tyres are a bit softer (and wider) than the R35 intermediate Hoosiers which I ran at Golspie. Hopefully they won't melt after one run at the Alford sprint on 29th July!
I've ordered a rev limiter and a set of AVO Coil/over shocks for the front. The existing Bilstein gas units are 1" too long in the open position and can cause the inboard rockers to hit the bodywork on full droop. A set of 6" 275 Lb springs will also allow me to run the car a bit lower.