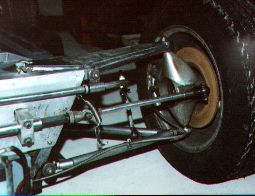 Hawke front suspension, top rocker arm actuates an inboard spring/damper unit.
(this picture was of my DL19 before it was restored - DL17 suspension is virtually identical - except for the anti-roll bar).
The DL17's anti-roll bar mounts onto the rear of the top of the coil/damper units, the anti-roll bar mounting blocks are attached to the bottom arm inboard pivots.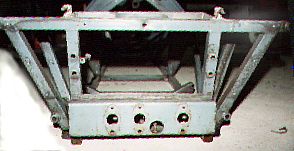 DL19 pedal box
January 2000 - After a slight miscalculation, I have had to make a second pedal box (I should have looked more closely at the pictures which I took before I cut off the original one). I also had to make a new pivot rod for the pedal assembly as I had assumed that the mounting was the same as my DL19, that is with the rod going through the bottom chassis rails, unfortunately the DL17's fitted between the rails. Anyway, a mini remote rod was the exact diameter for the pedals, so this along with two longer end spacers, fitted through the holes I had drilled in the chassis rails. I also remembered to fit the nose cone mounts to the chassis (after I spotted them on the pictures of the original!).