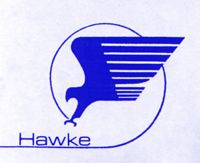 March 2000 - Lots of bits have arrived for the Hawke, including a 2 gallon foam filled alloy fuel tank, plumbed-in fire extinguisher, 6 point race harness, new Nomex overalls and boots.
I have converted the Mini rear hub drive flanges to 7/16" UNF studs (cheaper than buying 3/8" UNF tube nuts for the Revolution wheels).
I was most fortunate in acquiring a lot of alloy sheet from some shelving being thrown out by my workplace - mine for a small donation to the charities committee. I have enough to panel the entire chassis, bottom, sides, bulkheads and side pods.
I have tried fitting the fibreglass body and nosecone. I have used the wider of the two nosecones - it is lighter and matches the top section profile better (looks the same as Derek Warwick's Hawke).
Still to weld on a few mounting brackets for the fuel tank, radiator, battery, exhaust, roll bar mounts etc.
The chassis has been finished in primer and is starting to look a lot better.
Progress has been temporarily halted due to the Italian Job Mini needing a new rear sub-frame for it's MOT - hopefully I will get the Mini finished next weekend.